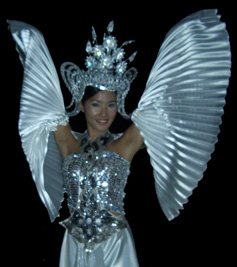 About us
Akhira was founded by Ratchaneekorn Vichayanon. After a dance career in Thailand, she came to The Netherlands in 2005 and started dancing on events, parties, weddings all over Europe.
The performances are never the same. We use different music, costumes and props, like bamboo, long nails, parasols and fans. We design a unique show for every occasion.
Besides solo dance we work with other dancers in different combinations and we can organize group dance perfomances with up to 20 dancers on stage. A combination of Thai dance and live music is also possible.
Right now we are expanding Akhira to be a booking agency for Thai artist all over Europe. Not only dance and music, but also for example fruit carving, Thai Boxing demonstrations (Muay Thai), Thai make-over photography and much more. Soon to be seen on this website!